Products recommended in the post contain affliate links. if you purchase something through our posts, we may receive a commission at no extra charge to you. See our full disclosures here
Do you love ice fishing? If so, you'll need the right tools to make sure that not only is your experience enjoyable but also successful. Factors such as comfort and convenience are paramount when selecting a chair for your adventures. After all, it's important to stay warm while out on the iced-over waters. That said, with so many options available on the market today, finding the best chair for ice fishing can be an overwhelming task. To help narrow down your choices and give you peace of mind that you're getting quality gear every time, this blog post will provide an in-depth look at five of the top-rated chairs for ice fishers in 2023! Read on for detailed reviews about their features and benefits!
Ice Fishing Chair Buying Guide: What to Look for in a Good Chair
Portability
When it comes to ice fishing chairs, portability is key. Look for a chair that's easy to carry and lightweight so you can comfortably transport it from one spot to the next without any difficulty.
Durability
Ice fishing often involves harsh conditions, so make sure the chair you choose is made with high-quality materials that can withstand the elements. Look for chairs made of heavy-duty frames and waterproof fabric that won't easily break down over time.
Comfort
Think about what type of comfort you need while out on the ice. A chair with adjustable backrests, armrests, and footrests is ideal as it allows you to adjust the chair to your exact preferences for a customized fit.
Related Articles: 16 Best Tips And Techniques For Ice Fishing Safety
Versatility
Look for chairs that offer multiple uses, such as ones with built-in storage pockets or insulated beverage holders. This way, you can store snacks and other small items, as well as keep drinks warm while fishing.
Storage
A good chair should have ample storage space. Look for chairs that have large capacity pockets, so you can store all of your gear in one place.
Optional extras
Some ice fishing chairs come with additional features such as cup holders, adjustable legs, and even built-in coolers. These extras may prove useful in the long run, so consider if they're worth investing in.
Now that we've covered what to look for in a good chair for ice fishing, let's take a look at five top-rated options available in 2023!
Related Articles: Damn Good Tips And Tricks Ice Fishing for Catching a Walleye
#1 – LEADALLWAY Fishing Chair
If you're looking for a reliable and trustworthy fishing chair, look no further than the LEADALLWAY Fishing Chair! Crafted with a strong 16 mm steel frame and durable double-layer Oxford Fabric, this fishing chair can support up to 280 lbs! In addition, it features an Anti-slip foot design which secures your seat and provides extra stability. But that's not all – this foldable outdoor chair also comes with a built-in cooler bag to keep your food and drinks cool for hours on end. That way, you'll never have to worry about being without a comfortable seat to rest or snacks on the go! Look no further – the LEADALLWAY Fishing Chair is the perfect companion when you plan on spending time outside. Get yours today!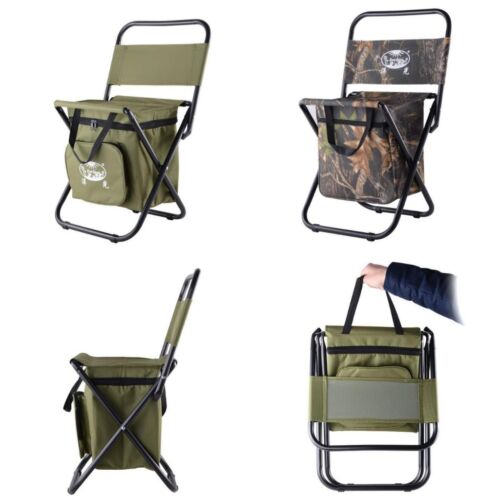 Welcome to LEADALLWAY Fishing Chair – the perfect companion for all your outdoor activities! Whether you're camping, fishing, watching sports events, tailgating, hiking, or picnicking – this chair will be your trusty sidekick. With a full size of 12.6(L)X12.2(W)X22.8(H) inch, and folding size of 13.8(L)X3.9(W)X18.1(H)inch, it can be easily folded when not in use and carried around without any hassle. Plus, we offer a 100% satisfaction guarantee – so if you don't love it, we will give you a replacement or full refund at any time. But please pay attention! The fishing chair's size is small and might not fit taller customers comfortably – so kindly buy according to your needs only! So what are you waiting for? Get LeADALLWAY Fishing Chair now and enjoy the freedom of easy transportation and comfort everywhere you go!
Related Articles: 5 Best Ice Fishing Boots For Men In 2022
#2 –  PORTAL Extra Large Quick Folding Tripod Stool
Are you looking for the perfect outdoor companion? Look no further than the PORTAL Extra Large Quick Folding Tripod Stool! It's designed with a rugged weather-resistant poly/fabric material that is made to last. The extra-wide design grants you an effective seat and back support system for complete comfort as you enjoy your favorite outdoor activities. Whether it's hunting, fishing, camping, or boating, this stool can be set up quickly and folded in just seconds. It shrinks into an incredibly small size of 33"(L) X 4"(W) X 4"(H), letting you effortlessly carry it around in the included shoulder strap. The setup dimensions are 19″(L) X 17. 7″(W) X 30.7″(H), allowing 18 inches off the ground for a comfortable and enjoyable sitting experience! With the PORTAL Extra Large Quick Folding Tripod Stool, you can rest easy knowing that all your outdoor adventures will be a success.
Related Articles: How To Choose The Best Ice Fishing Gloves
#3 – Zology Folding Camping Chair Stool Backpack
Allow yourself to sit wherever, whenever with the Zoology Folding Camping Chair Stool Backpack! This ultra-lightweight and durable chair is a must-have for any outdoor adventurer. Not only does it provide comfort and convenience, but it's strong enough to hold up to 330 lbs—so you'll never have to worry about finding somewhere comfortable to rest again. Plus, it comes with a built-in cooler bag so your food and drinks will always be kept cool – perfect for camping trips, fishing trips, or hunting excursions. With multiple pockets for storage of smaller items like keys, wallets, power banks, and more, you won't have to worry about forgetting anything while you're out exploring nature. Get your Zology Folding Camping Chair Stool Backpack today – the ultimate comfortable companion on all your outdoor adventures!
Are you looking for a reliable and sturdy camping chair that has all the features that you can need? Look no further, Zology's Folding Camping Chair Stool Backpack is the perfect solution for your outdoor activities. This high-quality and durable chair is made from a strong polyester and oxford fabric that can withstand any heavy-duty action. It comes with a comfortable shoulder strap so you can take it with you wherever you go without worrying about its weight. Did we mention it also has a backpack to carry all your supplies? You will surely be pleased with this product.
This foldable chair could be the perfect present for the special man in your life. Perfect for camping, hunting, fishing, or any other outdoor activities, this foldable wonder is worth considering if you want something lightweight and high-quality. Your satisfaction is our top priority so make sure to pick up a Folding Camping Chair Stool Backpack today!
Related Articles: How To Choose Ice Fishing Boots For Women
#4 – 2 Pack Camping Stool, 13.8 Inch Portable Folding Stool
Introducing the 2-Pack Camping Stool, the perfect addition to your outdoor adventures! With these 13.8-inch high comfortable stools, you and your friends can take a rest while enjoying the great outdoors. Crafted with premium clothing material and steel pipe, they have an amazing capacity of up to 400 lbs! An anti-slip padding ensures that these stools won't wobble or move out from under you as you sit. Also included in this set is a side pocket for any items such as a smartphone, snacks, or drinks. Each stool also has its package bag for easy storage and transport. Get your 2 Pack Camping Stool today and start exploring worry-free!
Are you looking for a practical and portable camping stool for your next outdoor adventure? Look no further than our 2 Pack Camping Stool, 13.8 Inch Portable Folding Stool! It's light, easily folded, and perfect for a range of activities, such as fishing, camping, hiking, and gardening. With the ability to be set up in just seconds and fold back into a compact size in one movement, it's simple yet efficient in design.
The structure of the folding stool has been designed with 100% premium quality materials so you know it won't let you down. And on top of that, we guarantee you 100% satisfaction with our customer service team and 1-year warranty. So rest assured that however you choose to use your portable folding stool – whether your enjoyment is fishing or sitting out at the beach – you can trust its durability and quality will be sure not to let you down!
Related Articles: Best Ice Fishing Suits (Top Product Reviews 2022)
#5 – Earth Products Store Ultimate 4
Get ready to take your outdoor adventures to the next level with the Earth Products Store Ultimate 4 Folding Fishing Chair! This innovative chair is adjustable and can accommodate uneven terrain up to 4 inches, allowing for versatility no matter where you're fishing. With its four-position backrest and Deluxe Foam Padded Seat, this chair offers comfort and support that doesn't compromise style. No more worrying about sinking into soft soil with two swivel mud feet on the front legs keeping you secure. Crafted from extra-strong, durable 25mm steel and aluminum frame, this high-quality chair can up withstand the elements. If you're an avid fisher looking for a comfortable place to rest for those long days, then look no further than the Earth Products Store Ultimate 4 Folding Fishing Chair — designed with both convenience and style in mind!
Related Articles: Best Ice Fishing Line in 2022 – Buyer's Guide
Conclusion
Do your research before you buy a chair for ice fishing. Know what type of fishing you will be doing and find a comfortable, yet affordable chair. Our top five chairs offer different features that are beneficial for ice fishing. The Eskimo Quantum Ice Chair is our top pick because it is made with high-quality materials, has a ton of storage, and is very comfortable. It is important to stay warm while ice fishing, so make sure to get a good pair of gloves and boots. We hope our list helped you find the perfect chair for your next ice fishing trip!