Products recommended in the post contain affliate links. if you purchase something through our posts, we may receive a commission at no extra charge to you. See our full disclosures here
Ice fishing is a great way to experience the beauty of winter while still enjoying your favorite outdoor activities. Whether you're just getting started in this sport or are an experienced angler, there are a few tips and techniques you should always keep in mind as you embark on your ice fishing journey. In this blog post, we'll be discussing the best tips for success when it comes to ice fishing so that you can make the most of each trip. Learn how to read fish behavior, create effective rigs, and set baits correctly with our expert insight!
Ice Fishing Techniques
Ice Fishing Jigging
When winter comes, why not give ice fishing a try? Use an effective technique such as jigging for success. Jigging involves either utilizing specially-designed lures or live bait to draw in your catch – so get ready to reel them in!
Related Articles: Best Ice Fishing Lures For Trout 2022 – Things You Need To Succeed
Follow these simple steps to practice the various ice fishing jigging techniques:
Drop your line and let your jig hook sink to the bottom.

Then slowly (very slowly) raise your bait up about a foot off the bottom.

You can jig up and down, side to side, or up and down and sideways.

If you are moving your bait too much or too fast, the fish may think it is not worth the effort to go after it. Jigging works best for smaller fish like panfish.

Ice Fishing Tightlining
Ice anglers can explore the tantalizing world of tightening fishing, where they drop lures into the water and wait for lines to become taut. Successful ice fishing tightening requires a careful selection of lure weights to ensure that a fish strike is noticeable without causing line tension issues from an overly heavy bait. Determining these parameters through trial and error adds fascinating suspense as well as unpredictability for fishermen looking to make their mark in this unique sport!
Related Articles: Damn Good Tips And Tricks Ice Fishing for Catching a Walleye
While some folks rely solely on their line to sense a strike, adding the extra assurance of a spring bobber is becoming increasingly popular. Featuring either metal or wire extending off the rod tip and any movement in your line causing it to move – you have yourself an invaluable tool for helping detect those elusive bites!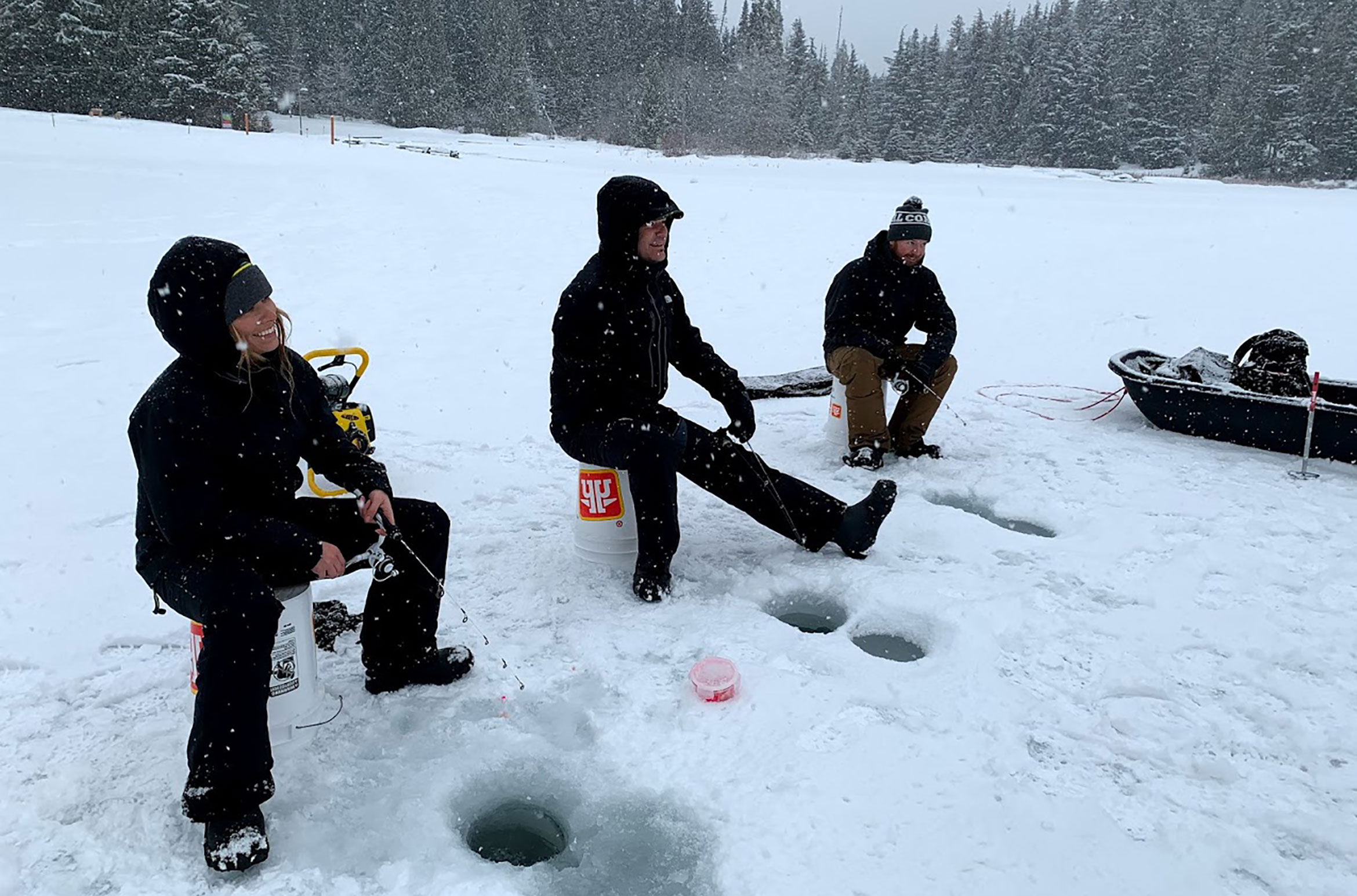 Ice Fishing Lines
For ice fishing, selecting the right line can be a make-or-break factor in your success. Specifically designed to transmit even the most delicate bites from an angler's rod, lines crafted for use on frozen waters are typically much lighter than their open-water counterparts. The type of material chosen should depend on many factors including techniques used and species targeted as well as considering water depth before making a purchase decision.
Related Articles: 5 Best Ice Fishing Boots For Men In 2022
BEST ICE FISHING LINES FOR PANFISH
For catching panfish species in depths beyond 20 feet, a light braided line is a reliable choice for experienced anglers. Its lack of stretch allows you to detect the slightest nibbles and set the hook swiftly. For those seeking more durability from their lines, lighter monofilament (2-4 pound test) offers increased longevity as well as superior resistance to kinks and tangles compared with other types of ice fishing lines.
BEST ICE FISHING LINES FOR LARGER SPECIES
Ice fishing for large species, such as largemouth bass or walleye can be an exciting experience! To maximize your chances of a successful catch, opt for a line in the 8 to 10-pound test range along with a fluoro leader. The fluorocarbon's ability to remain practically invisible even when water is clear makes it ideal and its extra abrasion resistance guarantees you won't have any hiccups while hauling larger catches up through the ice.
Related Articles: How To Choose The Best Ice Fishing Gloves
RIGGING YOUR ICE FISHING LINES
With a variety of weights and types available, selecting the best line for ice fishing is a great starting point. Once you've made your decision, it's time to determine how hands-on you want to be when out on the lake – whether holding onto a rod or opting for an easier setup with the tip-up lines that allow multiple rods to set at once in anticipation of that special bite!
Related Articles: Best Ice Fishing Suits (Top Product Reviews 2022)
Follow these steps to set up your tip-up line:
First, tie an arbor knot around the tip-up reel and wrap the line evenly in a clockwise direction.

Attach a barrel swivel and leader. You can use an improved clinch knot to attach a barrel swivel to your ice fishing line. Using a barrel swivel can be quite helpful when fishing through the ice because it rotates and prevents your line from twisting. For walleye, bass, trout, perch, and crappie, attach 2 to 3 feet of fluorocarbon leader tied to your barrel swivel.

Tie your hook or lure it onto your leader. The type of hook and knot you use should depend on the species of fish you are targeting. When ice fishing for species such as yellow perch and bluegill with natural baits, you may want to use an Aberdeen hook in a size 6 or 8.

If using natural bait, attach a split shot to your leader. Finally, use a split shot to keep your bait positioned in the strike zone and keep your tip up at a distance where the flag is visible.
Wait for your first bite and get ready to catch a fish through the ice. Remember to keep a close eye on your rod tip. Any movement of your rod tip could be a sign that an interested fish is tasting your bait or lure.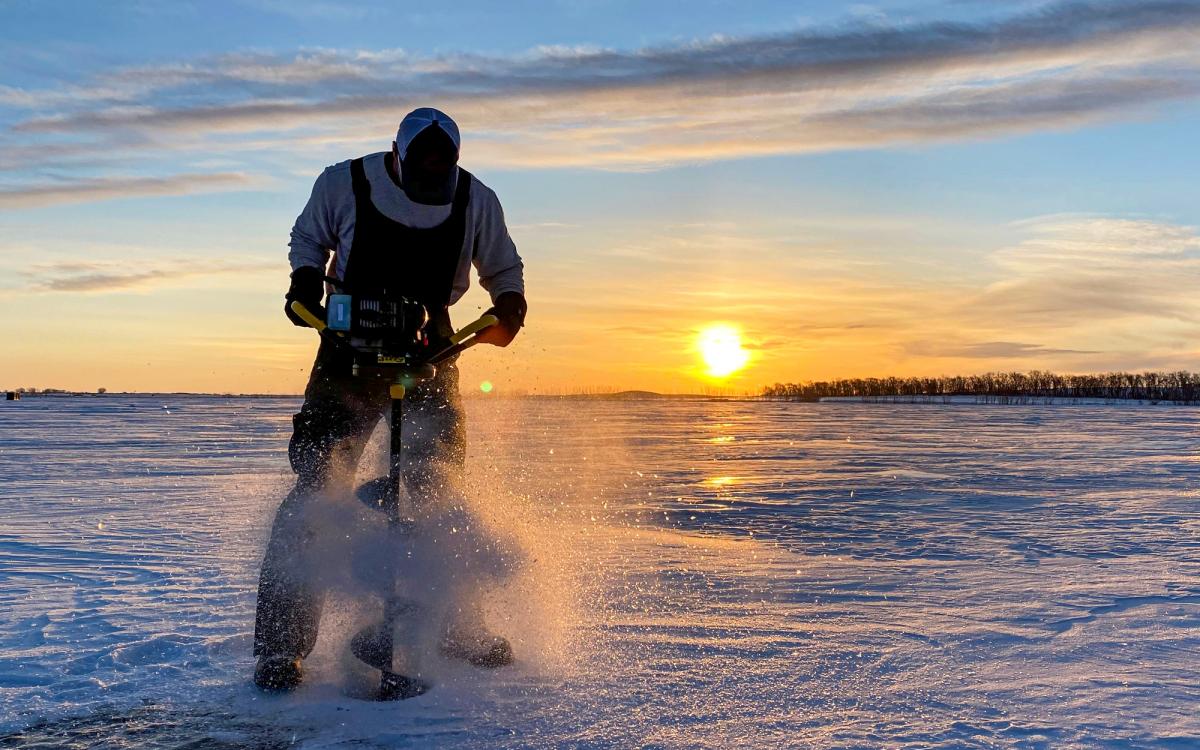 Ice Fishing Tip Ups
Ice fishing tip-ups are a great way to entice larger game fish like pike and musky when ice fishing. By suspending your bait beneath the device on a heavy braided line, you can use an attached flag as a strike indicator – alerting anglers of something tugging at their lure below!
KEYS TO SETTING UP THE BEST ICE FISHING TIP-UPS POSSIBLE
Once your tip-up is set up on the surface above your hole, drop your line in the water until it hits the bottom (usually stirring up the water).
Then raise the line slightly above the floor.
The line can either remain still or if you are not in a shelter, the wind can provide a natural jigging movement.
Many anglers try all techniques simultaneously to see which works best for the body of water, the species available, and the conditions of the season. If you plan to use multiple fishing rods or tip-ups, make sure you check the regulations from your state agency as some have limits on the number of rods an ice angler can use, or require permits.
Related Articles: Best Ice Fishing Fish Finders (Buyer's Guide & Review)
Conclusion
Fishing is a great way to enjoy the outdoors and with these tips, you will be sure to have a successful ice fishing trip! Ice fishing can be challenging but also very rewarding. By following these simple tips, you will be on your way to catching some fish through the ice in no time. Do you have any other tips for ice fishing? Let us know in the comments below!