Products recommended in the post contain affliate links. if you purchase something through our posts, we may receive a commission at no extra charge to you. See our full disclosures here
Are you an angler looking to increase your success rate when fishing for walleye in Michigan? If so, then you've come to the right place. In this blog post, we'll cover a range of useful tips and tricks that will help you to land more fish than ever before – regardless of whether this is your first season or tenth! Whether it's following the best bait selection advice or learning how different wind conditions can affect walleye behavior, by understanding the basics around successful walleye fishing in Michigan, you'll be well on your way to reeling in some truly magnificent catches. So what are you waiting for? It's time to get into gear with our top-notch guide on catching walleye fishing in Michigan!
What is Walleye?
The walleye (Sander vitreus) is a freshwater fish that can be found throughout Michigan, and it's one of the most popular game fish in the state. It grows to an average length of 15-25 inches and weighs around 3-6 pounds on average. Walleyes are known for their unique eye coloration, which is why they got their name – their eyes contain many tiny reflective cells called "tapetum lucidum", giving them a characteristic 'glass' eye look.
Walleye is a North American freshwater fish species belonging to the Percidae family. They are typically found in lakes, rivers, and reservoirs throughout Michigan and can grow up to 30 inches in length and weigh as much as 20 pounds.
Related Articles: The Best Bait For Walleye Fishing (Best Tips For Beginners)
Best Time to Fish for Walleye in Michigan
When it comes to catching walleye in Michigan, the timing makes all the difference! Generally speaking, springtime is the best time to go fishing for walleye in Michigan – when the water temperatures average around 40-50 degrees Fahrenheit. This is when walleyes are most active and feeding, so you'll have a better chance of success if you hit the lake during this time. However, fall can also be an excellent time to catch walleye in Michigan as the water temperature starts to cool down.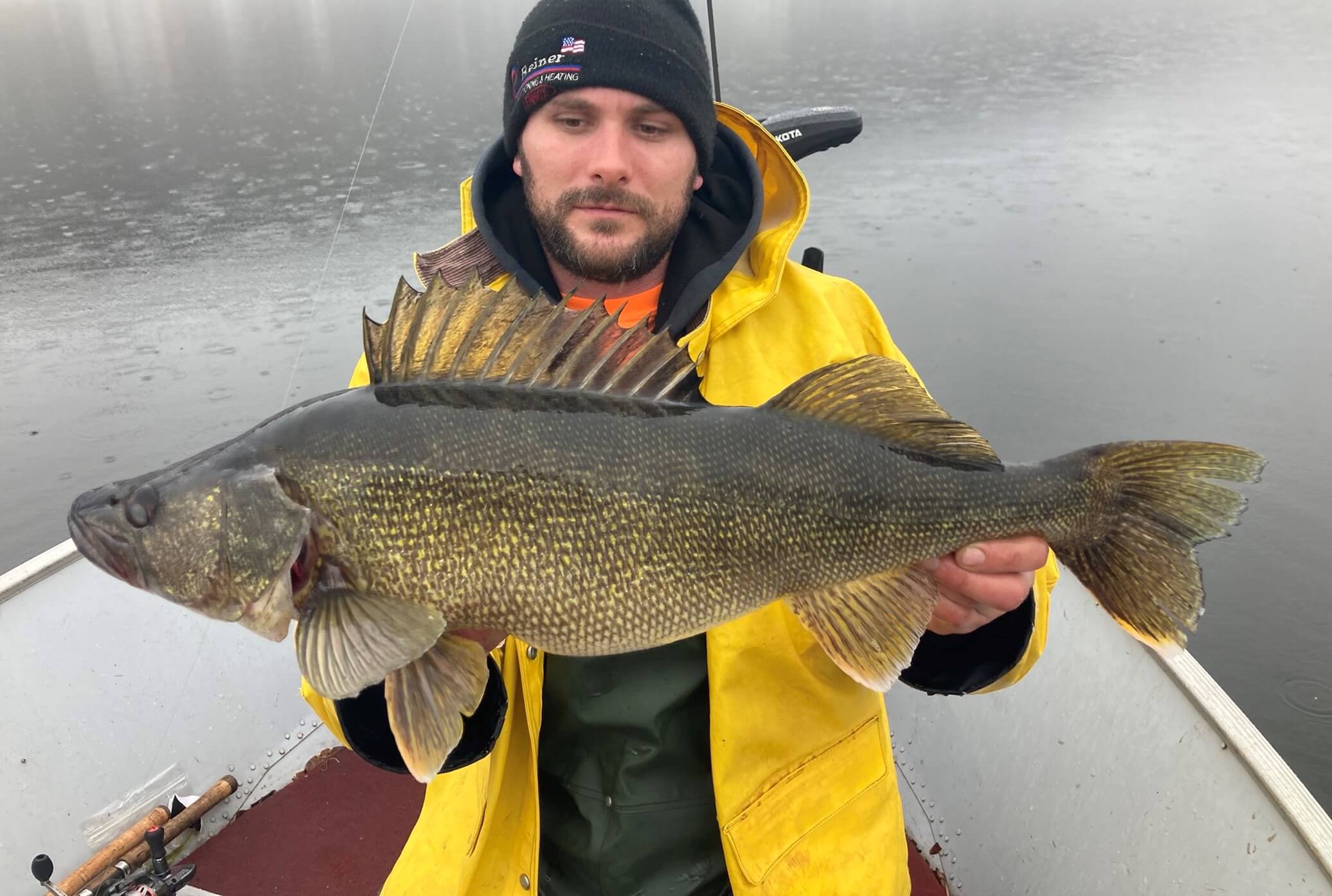 Where can I go Walleye fishing in Michigan?
Michigan has no shortage of great walleye fishing spots – so you'll be spoilt for choice when it comes to deciding where to go. Some of the best locations include Lake Michigan, Grand Traverse Bay, Saginaw Bay, Lake St. Clair, Lake Huron, and the Detroit River. Each spot is known for having a unique set of conditions that can help anglers maximize their chances of success in catching walleye.
Related Articles: Best Fishing Line For Walleye (Top Product Reviews Of 2022)
How to go Walleye fishing in Michigan?
Now that you know the best time of year and locations for walleye fishing in Michigan, it's important to understand the basics of how to actually go about catching them. The key is to select the right bait. Live baits such as minnows, leeches, and nightcrawlers are all popular choices for walleye anglers. Artificial lures such as jigs, spinner baits, crankbaits, and even fly lures can also be used with great success. Additionally, one should pay attention to the weather conditions – windy days can often mean more active feeding by walleyes due to their increased movement in search of food.
Fishing For Walleye
Walleyes may be the champions of versatility when it comes to their diet, as they will happily munch on anything from small fish and crustaceans to worms and insects. Bravely venturing out into deeper waters for safety's sake has also provided anglers with a fun way to test their luck in trolling-based pursuits such as deep diving crankbaits, jerk baits, spinners, or live bait – all while using planer boards cover water from both sides of the boat! If you're looking for your best chance at catching walleye during summer months, try casting near shallow bars or shoals near dusk till midnight – that is where these crafty creatures usually go shallower than usual come springtime if migration streams aren't available.
Related Articles: How To Choose Fishing Reel For Walleye Fishing
Bait Selection Tips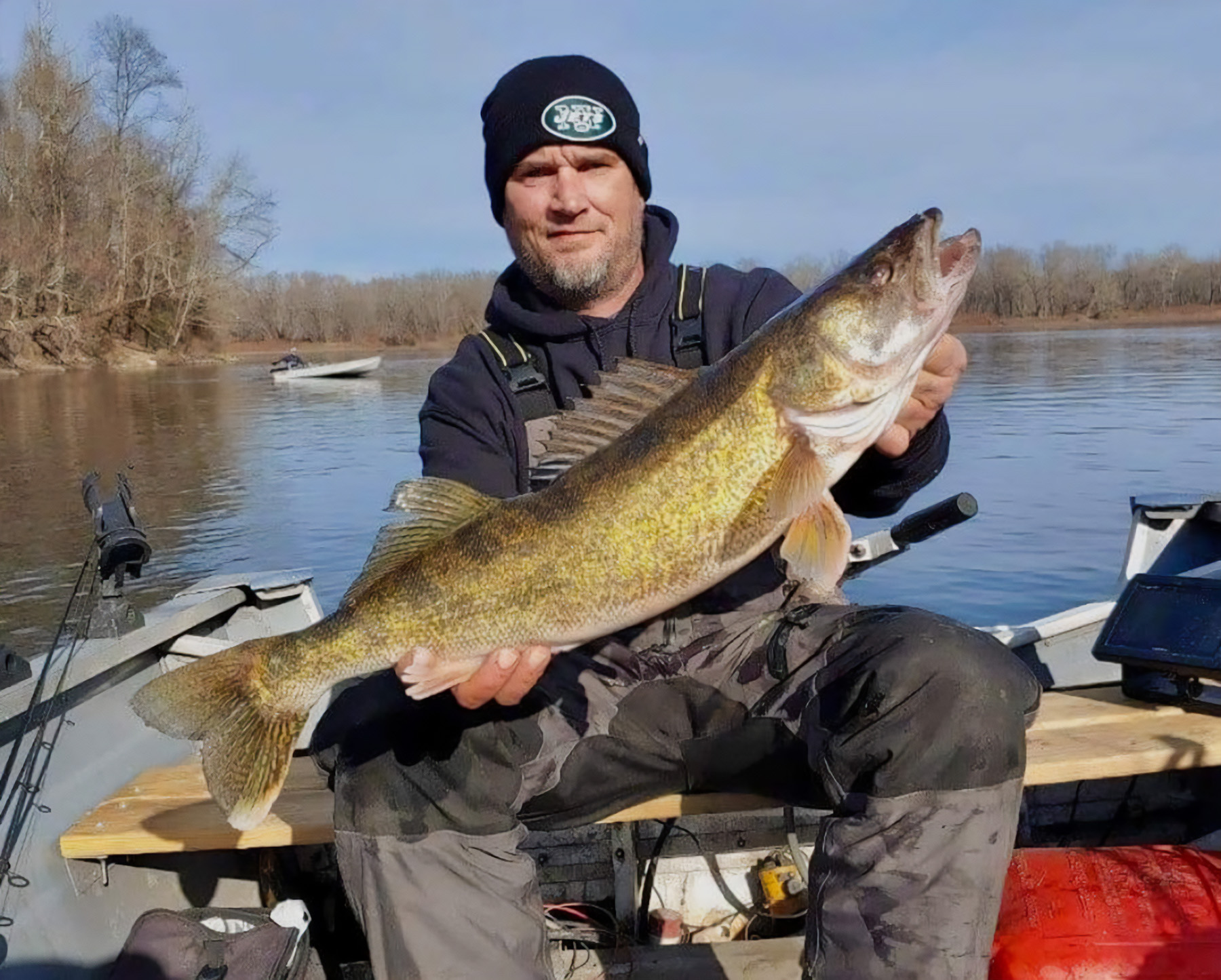 When selecting bait for catching walleye in Michigan, you want to opt for natural tools that imitate their prey: minnows, crayfish, and worms are all great options! Stickbaits, spinners, and jigs are also popular choices among anglers – they offer up more variety than natural baits and often result in more bites.
Wind Conditions To Consider
Wind conditions can hugely impact your success when fishing for walleye in Michigan. Windy days often lead to higher concentrations of baitfish, which attracts walleyes to feed and spawn. If you're headed out on the water during windy days, it's best to target areas near offshore structures like rocks or reefs that are close together – this is where walleyes tend to congregate when the conditions are choppy.
Tips and Tricks For Catching Walleye in Michigan
Now that you have an overview of where and when to fish for walleye in Michigan, let's dive into some tips and tricks to help improve your catch rate:
• Use appropriate bait – while live bait is generally the most successful when it comes to catching walleye, artificial lures can also be very effective. Some of the best baits for walleye include minnows, nightcrawlers, leeches, and crayfish.
• Adjust your fishing strategies based on the wind – having the right wind conditions will play an important role in influencing where and how you should fish for walleye. A light wind blowing against the shoreline is preferred as this creates a current that attracts baitfish which in turn attracts hungry walleyes!
Related Articles: How To Choose Fishing Rod For Walleye Fishing
• Look for structure – areas with submerged logs and rocks are known to be great spots for finding walleye. They offer cover from predators and plenty of food sources for these fish to feed on, making them ideal spots for walleye fishing.
• Experiment with different lures – different lures can be used to target a range of walleyes depending on the season, weather conditions, and baitfish present in the area. So experiment with different lures until you find one that works best for your particular spot!
• Don't forget about jigs – jigs are great for catching walleye as they have an attractive action that attracts the fish even when there is no bite happening. Try several colors and styles of jig to determine which ones work best in your area.
Conclusion
The art of walleye fishing is perfecting your skills to suit the fish's habits in a given body of water. In order to be successful, it's important to understand where to find them, what they eat, and when they feed. By following these tips, you will have a better chance of reeling in a trophy walleye the next time you go out on Michigan waters.