Products recommended in the post contain affliate links. if you purchase something through our posts, we may receive a commission at no extra charge to you. See our full disclosures here
Catching Dolly Varden trout in Alaska is a thrilling experience! Whether you're an experienced angler or just starting, reeling in these amazing fish can bring the excitement of sport fishing to a whole new level. Not only does it provide great outdoor recreation opportunities, but Dolly Varden is also prized for their delicious flavor and is widely considered one of the best-tasting freshwater fish available. With this blog post, we'll cover everything you need to know about catching Dollies – from where to find them, what type of gear works best and proper techniques that will have you landing your limit in no time! So get ready because if you have dreams of completing your very own Alaskan fishing adventure then read on as your dream could soon become reality!
Dolly Varden Description
Dolly Varden trout can be found swimming in Alaska's cold-water rivers, lakes, and streams from Ketchikan to the Arctic Ocean. They are medium-sized fish with an olive green back and sides, fading to yellow or white on their underside. Their backs are often marked with large black spots while they have red side fins and a white-tipped tail.
Related Articles: How To Choose The Best Fly Fishing for Silver Salmon In Alaska
Dolly Varden Tackle & Gear
When fishing for Dolly Varden, you'll need a regular-weight rod and reel combo equipped with a 6 to the 10-pound test line. You should also bring along appropriate tackle such as small spinners, spoons, jigs, and dry flies. If you want to go for larger fish then it is best to use a heavier line weight of 12 pounds or higher. Finally don't forget your landing net – it will make the process of catching Dollies much easier!
Dolly Varden Techniques
When it comes to catching Dolly Varden, the best strategy is to slowly troll around likely areas such as deep pools and riffles. If you're fishing from a boat, use your trolling motor or electric motor to move across the surface of the water. Once you have found a good spot, cast out your line and then slowly retrieve it back in. If you're fly fishing, then make sure to use a slow and steady retrieval with occasional pauses. In both cases, the key is to be patient and work the water systematically until you get a bite.
Related Articles: Top 15 Hot Fishing Spots In Alaska
Once you have landed your catch, don't forget to properly release the fish back into the water if you're not planning on keeping it. This will ensure the sustainability of the Dolly Varden trout population for generations to come!
Finally, keep in mind that with a little practice and patience, you too can become an expert Dolly Varden angler. Whether you're out just looking for a good time or hoping to land a monster catch, the thrill of reeling in these amazing fish will provide you with a truly unique and unforgettable experience! So cast out your line and get ready for an Alaskan fishing adventure that you won't soon forget. Good luck!
Dolly Varden Lures
When it comes to selecting the right lure for Dolly Varden trout, there are two main factors that you need to consider: size and color. The most popular lures are small spinners and spoons in sizes ranging from 1/8th of an inch up to 1/2 of an inch. As far as colors go, bright colors are usually the best bet – think gold, silver, and fluorescent orange. You can also use bait such as worms or salmon eggs for a more natural approach. Once you have selected your lures, it's time to get out there and start fishing!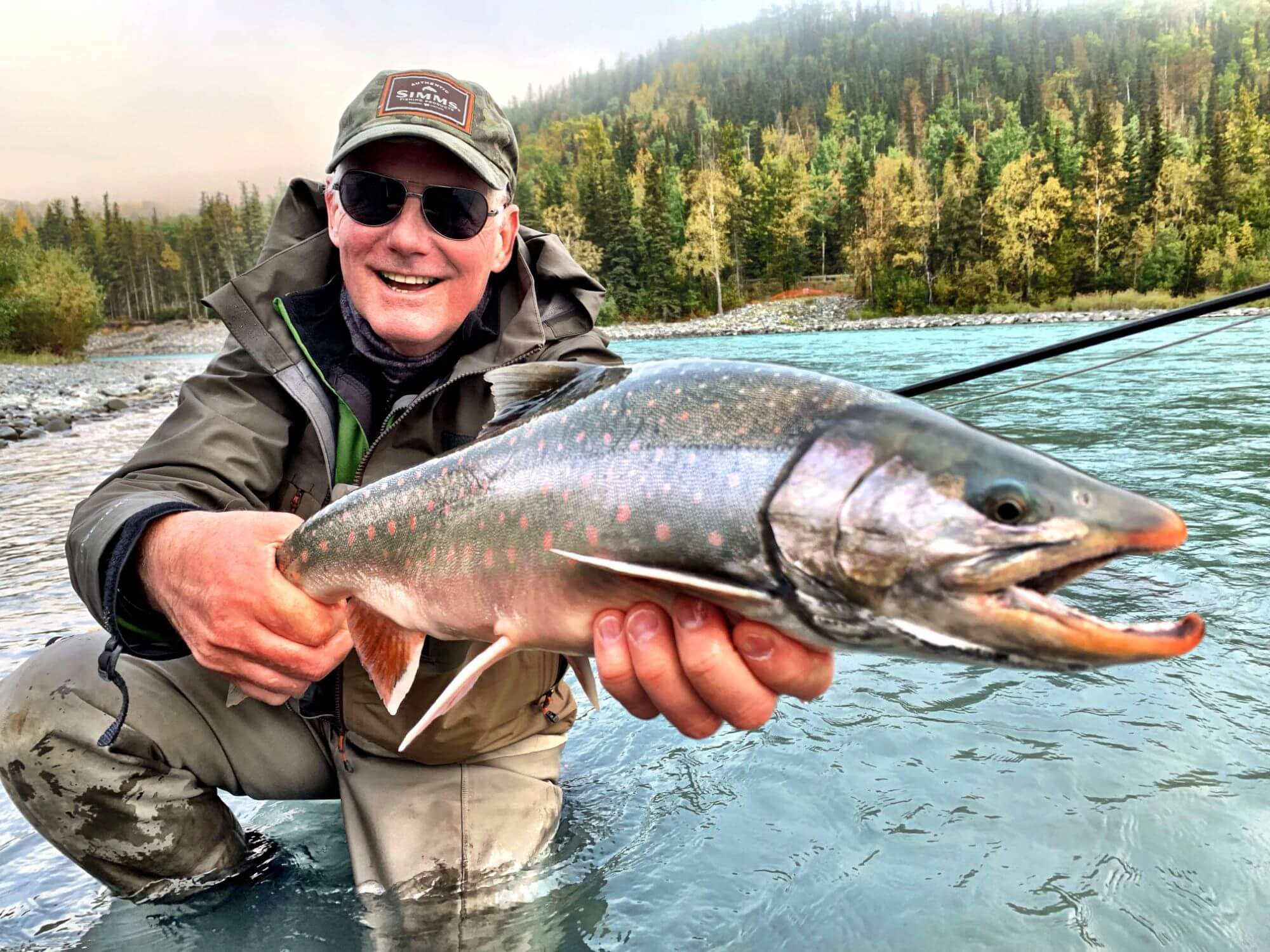 Dolly Varden Baits
In addition to lures, you can also use natural baits such as salmon eggs or worms when fishing for Dolly Varden trout. The best way to present the bait is by using a small sinker and weight combination of about 1/8th of an inch in size. The key is to let the bait slowly drift down through the water column and present it naturally. This technique is particularly effective when fishing slow-moving pools and riffles. With a bit of patience, you should soon be rewarded with a hard-fighting Dolly Varden at the end of your line!
Related Articles: Best Tips For Catching Alaska King Crab
Where to Catch Big Dolly Varden
If you're hoping to land a monster Dolly Varden, then your best bet is to head to the larger rivers of Alaska such as the Kvichak or Nushagak. These rivers are home to some of the largest and most sought-after Dollies in the state. When fishing these waters, focus on areas with deep pools, slow-moving riffles, and other areas where the fish may congregate. It's also a good idea to bring along some heavier tackle – these big Dollies can put up quite a fight!
By following these tips and techniques, you should soon be well on your way to becoming an expert Dolly Varden angler. So what are you waiting for? Grab your tackle, head out to Alaska, and get ready for the fishing adventure of a lifetime!
FAQ
When can you catch Dolly Varden in Alaska?
Dolly Varden can be found in Alaska's freshwater rivers and streams from late spring through early fall.
What is the best lure for Dolly Varden?
Small spinners and spoons in bright colors such as gold, silver, and fluorescent orange are usually the most effective lures when fishing for Dollies.
Where can I fish for Dolly Varden in Alaska?
The larger rivers such as the Kvichak and Nushagak are home to some of the biggest Dollies in the state.
What kind of tackle should I use for Dolly Varden?
When fishing for big Dollies, it's a good idea to bring along heavier tackle – these fish can put up quite a fight!
What is the limit on Dolly Varden in Alaska?
The Alaska Department of Fish and Game set the bag and possession limits for Dolly Varden. Currently, the limit is two fish per day with a possession limit of six.
Conclusion
We hope this blog post on How To Catch Dolly Varden in Alaska has helped educate and find out tips from experienced fishermen. Always remember to check local regulations and safety guidelines when planning fishing trips. Also, be sure to check the tides, moon phase, and water temperature for optimal fishing times and accurate reports. When you are finally ready to catch your own Dolly Varden with the right gear, best poles, hooks, and technique skills; success will be within reach! Share the joy with family and friends or just keep it all to yourself– regardless, you don't want to miss this unique Alaskan experience! Tight lines!