Products recommended in the post contain affliate links. if you purchase something through our posts, we may receive a commission at no extra charge to you. See our full disclosures here
If you're looking to amp up your freshwater fishing, knowing which rigs are the most effective can make all the difference. Whether you're a novice or an experienced angler, knowing different rigging techniques is critical for successful catches. Well, look no further because here we outline what we consider to be the 10 best freshwater fishing rigs that will help ensure both newcomers and seasoned fishermen have success on their next outing! With detailed descriptions of how each rig works and why it's so effective — this article has everything needed to maximize catches in any fresh body of water.
1. Slip Bobber Rig
This is one of the most versatile and effective rigs for a variety of fish species and can be used in both shallow and deep waters. The slip bobber rig consists of a sliding bobber, with an appropriately weighted sinker tied on the line below it. To use, simply cast out your line with the desired amount of weight attached, then adjust the bobber to reach the fish-holding depths.
2. Carolina Rig
A great option for larger freshwater fish such as bass and walleye, this rig is effective because it easily gets lures down to deeper waters without having to add a ton of weight to your main line. It consists of tying a swivel onto your main line, then attaching a weight to the end of it. From there, you attach a leader line with your lure and sinker tied onto the other end.
Related Articles: How To Use The Carolina Rig For Surf Fishing
3. Drop Shot Rig
Another great rig for bass fishing, the drop shot rig is very effective in both shallow and deep waters and is especially popular with anglers targeting smaller fish. To assemble this rig, start by tying on a swivel to which you'll attach a 6-10 inch leader line with your bait or lure attached to one end. Then tie on your desired weight at the bottom of the main line — typically 3/8 ounce or heavier — which will keep your bait suspended off the bottom where bass like to feed.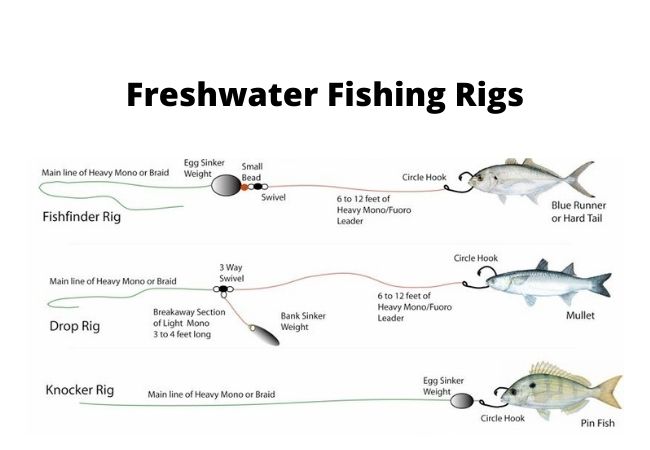 4. Split Shot Rig
This basic, yet effective rig is great for catching a variety of species and can be used in shallow or deep waters. It consists of attaching a split shot sinker to the line above your bait or lure, which will help keep it suspended off the bottom of the lake bed. Due to its simplicity and effectiveness, this rig is popular among recreational anglers and seasoned professionals alike!
5. Float & Fly Rig
A great rigging technique for targeting large bass during spawning season, this setup involves tying on a small float directly above your fly so that it stays just below the surface — right where big bass love to feed. To complete this rig, add additional weight as needed until you achieve the desired depth.
6. Alabama Rig
This is a great option for targeting large fish and consists of five or more lures on one line that all move together and mimic the movement of a school of baitfish. The Alabama rig is designed with strategically placed weights that ensure the lures remain suspended in the water column at their desired depths, making them very effective for bass, walleye, and other larger gamefish species.
Related Articles: Pro Tricks, Tips and Tactics to Catch More Fish with Carolina Rig
7. Bank Line Rig
Also known as "run and gun" fishing, this technique is best used when covering water quickly to locate active fish. This setup consists of tying your lure directly to the main line with no additional weight or leader lines, allowing you to cast far distances with minimal effort.
8. Float & Jig Rig
This is a great setup for shallow waters and consists of tying a float directly above your jig, allowing it to lightly bounce off the lake bed which can be extremely effective when targeting bass or panfish. To assemble this rig, tie on a light slip-float and adjust the depth accordingly so that you always have direct contact with your lure — ensuring every bite is felt!
9. Slip Sinker Rig
This rigging technique is very popular in deep waters and involves attaching one or two sinkers directly onto your main line without any additional leader lines or weights. The sinker(s) will help keep your bait suspended at the desired depths while also providing enough weight to cast long distances without any added effort.
Related Articles: How To Choose The Right Freshwater Bait
10. Two Hook Rig
This technique is great for targeting larger fish such as muskie or pike and involves tying two hooks onto one line with a weight between them. The extra weight will help keep your bait in the strike zone while also providing enough resistance to handle any large, aggressive fish that may take the bait. With this rig you can effectively cover multiple depths at once, making it an ideal setup when fishing in deeper waters!
Tips for successful Freshwater Fishing Rigs
No matter which rigging technique you choose for your freshwater fishing excursions, it's important to remember that the right setup can make all the difference. Here are some tips to keep in mind when setting up your rigs:
• Always use high-quality lines and equipment.
• Make sure all knots are tied securely and check them regularly throughout your outing.
• Experiment with different depths and lures until you find what works best for the fish in your area.
• Pay attention to the weather conditions — windy days can affect how your rig performs in certain waters.
With these simple tips, you'll be able to successfully set up any one of these 10 freshwater fishing rigs so that you can have the most successful outing possible! Good luck and happy fishing!
Bonus Tip: If you are targeting a specific species of fish, be sure to research the preferred lures and rigs in your area. Knowing what type of bait is best for particular gamefish can help you get more bites and increase your success rate. So make sure to do your research before heading out on the water for an enjoyable day of fishing. Happy angling!
Related Articles: How To Catch More Fish With Twitch Baits Lures
Conclusion
Overall, freshwater fishing rigs are essential for any avid angler, allowing them to successfully pursue the target species they desire. Utilizing one of the 10 best rigs can make a day out on the lake easy and relaxing, allowing catching a fish and enjoying a tranquil setting all in one shot. Whether it's a simple float rig, conger eel rig, or Carolina rig, with the proper setup and knowledge of rigging techniques, almost any fish can be caught from freshwater lakes and rivers if you have patience and dedication to pursuing your quarry. All in all, prep work for a successful fishing trip is immensely important for anglers as choosing quality equipment, researching the area waters, and learning how to set up their tackle appropriately are all pivotal components that can directly determine success on their next catches.