Products recommended in the post contain affliate links. if you purchase something through our posts, we may receive a commission at no extra charge to you. See our full disclosures here
Do you own a boat and plan on heading out for some relaxation time on the water? If so, having access to the right safety equipment is essential! Having all of your boat safety equipment in order ensures that you can enjoy every minute of your boating experience while ensuring maximum safety. In this blog post, we're going over five must-have items that make up your boat's comprehensive safety arsenal, which includes life jackets, emergency radios, distress signaling devices, fire extinguishers, and basic first aid kits. Every responsible boat person should be aware of how to use each item and make sure they're secure onboard before casting off. Read further to learn more information about each item and never forget these five essential components of safe boating practices.
1. Life jackets and wearable personal flotation devices (PFDs)
To keep your family, friends, and pets safe on the water, choose a quality U.S. Coast Guard-approved Personal Flotation Device (PFD). It's essential! For kids 12 and under as well as anyone riding in or towing behind a boat or personal watercraft, wearing PFDs are mandatory at all times – even before setting off from the dock. To find which type you need for each person onboard—including fur babies—it's best practice to review the USCG guidelines online. You can also reference our guide: How To Choose The Right Life Jacket Or PFD for helpful hints when selecting life jackets of every style & size that meet safety standards annually tested by US coast guard regulations.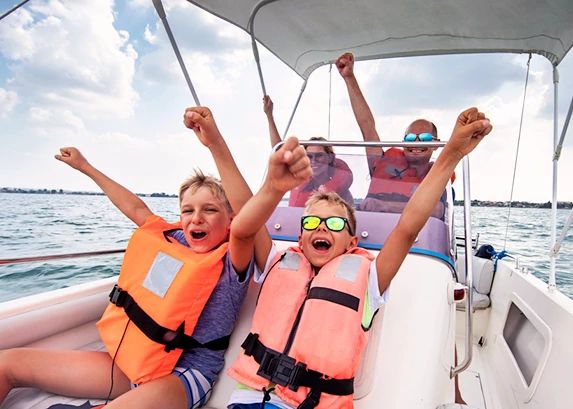 2. Throwable flotation devices
Be prepared for the unexpected on your next boating adventure by making sure you have at least one life-saving device, such as a cushion or ring buoy. Extra devices with attached lines are useful to pull someone closer and get them out of the water in an emergency – it's always best to be overprepared!
Providing a crucial measure of security and safety, Transport Canada-approved life buoys are essential for any vessel. Featuring an array of features such as good condition and strong 15 m attachment cord that is tailored to the size of your craft, these lifesaving devices offer vital assistance in rescuing personnel who have gone overboard.
Related Articles: 14 Boating Safety Tips for Hunters and Anglers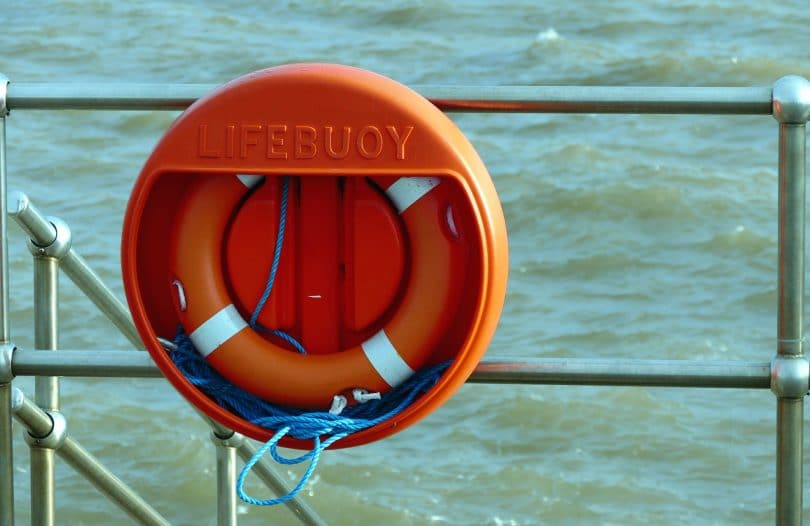 3. Fire extinguishers
No one wants to think about the possibility of a boat fire, but it is always best to be prepared. Boat fires can start from many sources such as burning fuel, faulty wiring or even leaving something too close to an engine cover. Always make sure your boat has the right type and size of fire extinguisher—the USCG recommends at least two B-1 rated onboard.
4. Visual signaling devices
Having the right kind of distress signals is essential when things don't go as planned. Visual distress signaling devices can be used to signal for help if you run into trouble and are in danger. The USCG requires that all boats have a minimum of three visual signalings devices such as flares, smoke signals, or an electric distress light.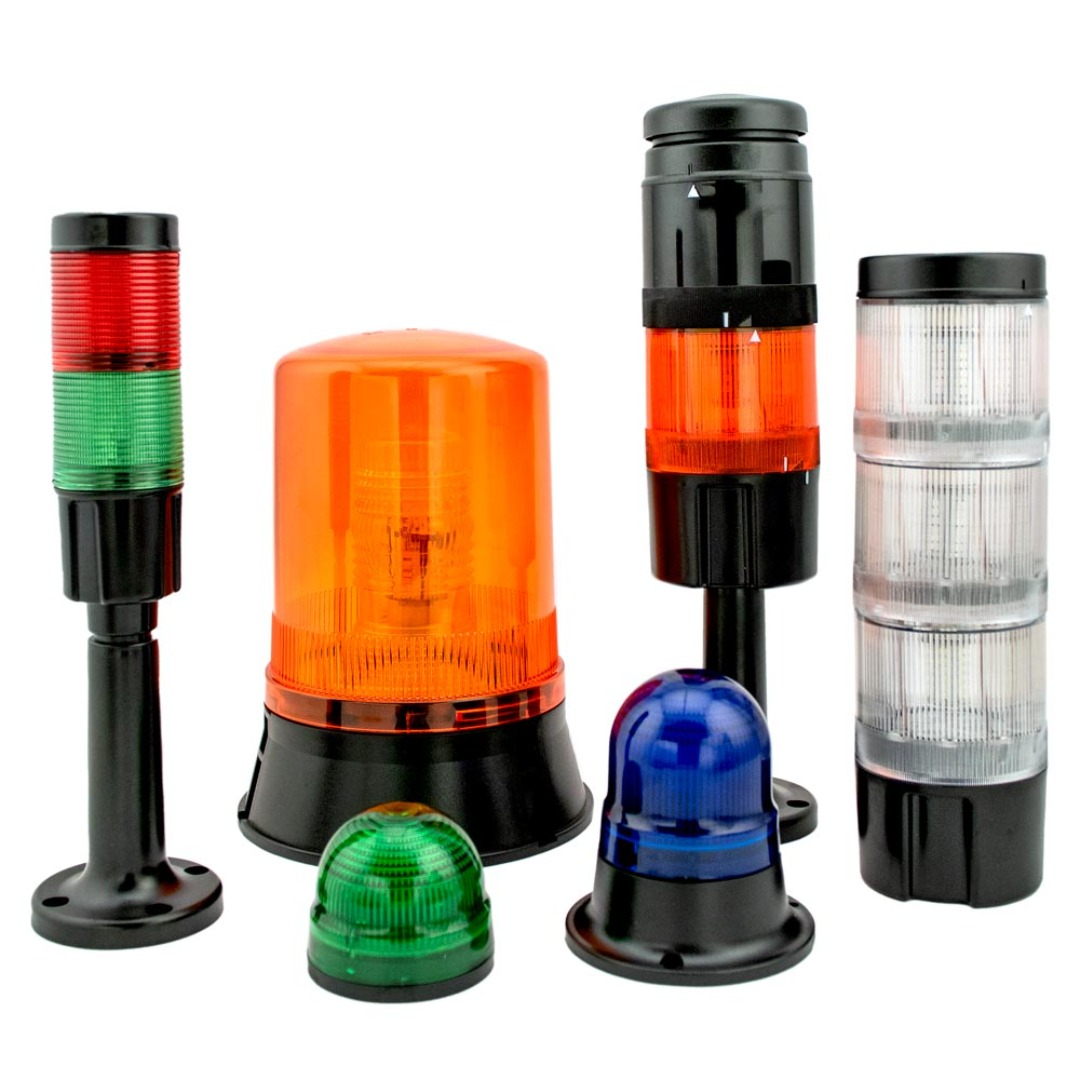 Boaters of all sizes must take measures to ensure they are properly equipped with visual distress signals. Vessels smaller than 16 feet need orange or white smoke flares and/or night man overboard lights, while those larger require day and nighttime signals alike. Pyrotechnic devices may come in the self-launching form or require a flare gun for deployment; strobe lighting also serves as an ideal nighttime accompaniment, alongside daytime flags on boats over sixteen feet long. Personal Watercraft (PWC) cannot be operated at evening hours so blackout signaling is unnecessary here – yet safety should never stop being the number one priority out at sea!
Related Articles: How To Prevent Seasickness While Fishing Boat
5. Sound signaling devices
As boaters, we are all familiar with the importance of producing sound when visibility is limited. From small vessels to larger boats over 39 feet long, having a variety of horns and whistles can often be our best ally in calling for help during foggy conditions – or any time day or night! Don't forget that bells are required on bigger crafts as well should you need an extra layer of safety assurance.
Other tips
Though not required by law, it is a good idea to take the following with you, should you be traveling a fair distance over a few hours:
extra clothing in a waterproof bag

drinking water

a first aid kit
FAQ
How Many Life Jackets Do I Need?
Safety is a top priority when boating, and PFDs are an essential component. The U.S Coast Guard requires that each vessel on board is supplied with at least one approved Type I, II or III Personal Flotation Device (PFD). To be deemed sea-worthy these life jackets must also remain in good condition and fit correctly for the user; everyone should know how to do them properly as well. Additionally, vessels over 16 feet long require a Throwable Flotation Device which can easily be accessed during man-overboard situations if necessary – every crewmember needs to know its location!
Related Articles: Top 10 Best Jon Boat For Fishing Of 2022 (Reviews In Detail)
What is an Efficient Sound Producing Device?
Boaters, make sure your vessel is equipped with the necessary sound-producing safety measures: for vessels less than 39.4 feet long, an air horn or whistle will do; anything greater requires both a bell and an airhorn in addition to the traditional whistle!
What Signals are Required?
A boat's safety is of utmost importance. Navigation lights and approved visual distress signals, including flags and day shapes, are essential pieces of equipment to keep in good working order for night sailing or any coastal/Great Lakes excursions. For boats under 16 feet traveling during the day only a signal device will suffice; however, at night all vessels must be equipped with three-day AND three-night visible signaling devices as per Coast Guard regulations.
Signals include the following:
Hand-held flares

Floating orange smoke

Flare guns

Orange flag

Electric distress light

Dye markers

Code flags

Square flag and ball

Day shapes
Even the waving of arms can be considered a distress signal. Remember, three signals are required, not one of each. Pyrotechnic devices like flares have expiration dates so be aware of those.
Related Articles: How To Choose Pond Boats For Fishers (Beginner's Guide)
Conclusion
When you are buying a boat, don't forget to budget for additional safety equipment. The items on this list are essential for any size or type of vessel. By being prepared and ensuring your boat is properly equipped, you can relax and enjoy your time out on the water. Do you have any other suggestions for must-have boat safety equipment? Let us know in the comments below!